*Reading time: \~8 min*
*Credit: Original post/story on my webpage.*
# Her Bull
A loud ding echoed in the house.
Laurie stilled, looking up from the vanity mirror. She was nude, her full breasts on display, plush ass pushed out as she leaned over the counter, applying a moisturizing cream to her face. Wrapping her towel around her body, she crept downstairs, peering out of the small glass squares of her front door.
"Oh," she said. Opening the door, she gave the young man a bright smile.
"Hey Alex," she greeted, opening the door for him. She expected a delivery, but her son's best friend wasn't surprised either. He had been coming over since her son was young.
"Hey, is Luka here?" Alex said.
"No, not yet, but please come inside. I just got out of the shower but I can make you a drink while we wait."
"Sure, thanks Mrs. Davis," Alex said, brushing past her. Laurie closed the door behind him, and she followed Alex to the kitchen. As they walked, she inspected him: he had grown tall, but he was still a pretty lanky kid.
"So how are classes?" Laurie asked as Alex sat at the kitchen counter. His eyes trailed her exposed legs to her collarbones as she passed him, grabbing a cup from a cupboard and filling it with homemade lemonade.
"They're fine Mrs. Davis," Alex said, his voice a little huskier than before.
"Yeah? Still getting good grades?" she asked, turning back to give him a smile. Her smile faltered when he realized he wasn't even making eye contact with her anymore; his eyes were glued to the outline of her ass pressing through her towel.
She cleared her throat and he blinked, looking away. She placed his lemonade in front of him, giving him another warm smile.
"Yup," was all he said.
"Luka should be here soon–"
"Mrs. Davis," Alex said.
She paused. His eyes weren't afraid to roam her body, rolling over the mounds of her breasts that nearly spilled over the top of her towel to her dark skin that was still covered in small droplets of water.
Laurie swallowed thickly, her eyes trailing down his body until they landed at the obvious bulge growing in his pants.
"Alex, do you have a boner?" she asked.
Alex shrugged. "I mean, yea, you opened the door naked with your tits and ass out. How could I not?"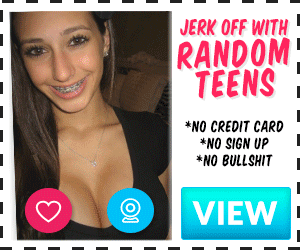 Laurie's mouth fell open and then closed. She didn't know what to say. The young man's eyes darkened, and he spread his legs further apart, unzipping his pants and suddenly pulling his cock out. It was a thick girthy cock, with a dark tip that was oozing precum.
"Take care of it," he said darkly.
Laurie acted based on pure instinct, the throbbing between her thighs urging her. She fell to her knees in front of him, her mouth parting as she took him balls deep into her mouth.
"Fuck, that's right," Alex said, shifting his hips so that he lazily thrusted into her mouth. Laurie was in her forties and she had been married a few times before. She knew how to fuck, and she knew how to give a good blowjob. Her tongue swirled around his thick cock and she kissed the tip, her cheeks hollowing as she sucked his cock like a woman starving.
"Fucking slut," Alex said. Laurie moaned, letting him thrust his cock into her mouth as if her throat were just a hole for him to use. Her towel dropped to the floor and she pressed her tits up against the man's legs as she sucked him dry, her head bobbing up and down as she took his length plunging deep in her mouth over and over again.
Her spit and drool dribbled down her mouth and dripped all over her chest as she gave him sloppy head, the sounds of her gluck schluck glurk as she sucked him. Laurie was in a state of bliss. Ever since divorcing her last husband, she didn't care too much for sex with an actual person. She fucked herself every night on her extensive collection of thick twelve inch dildos, but having a real fresh cock that was hot and smelled in front of her…
She moaned, her fingers plunging into her pussy. Simply put, it was divine.
"I'm gonna cum in your mouth and you're going to swallow like the good fucktoy you are, aren't you Mrs. Davis?"
She nodded, moaning all over his cock.
Alex's balls tightened and he shot pump after pump of hot cum deep in Laurie's mouth, which she greedily swallowed. She pulled away from his cock, letting it fall from her mouth, but a dribble of spit and cum split away from the two.
Laurie, without wasting any time, reverse straddled Alex so that she was bent over the counter with her pussy in front of the man. She shook her ass, arching her back, and spread her pussy so that he could see the glistening mess he made of her.
"Please fuck me," she whined. "It's been so long since I've had cock, and you're just a young bull… I want you to fuck me hard and rough like I like it," she moaned, driven by lust and her hunger for dick.
Alex didn't waste any time, grabbing either side of her waist and pushing his cock deep into her pussy. She took it like a slut, writhing and nearly cumming on his cock. She lifted her ass and twerked on his cock, moving on her own and slamming her hips back against his as he coaxed her.
"Keep acting like this and I'll turn you into my fucktoy. How does that sound Mrs. Davis?"
"S-so f-fucking good!"
He slapped her ass, grabbing her big pillowy ass as he started pistoning into her, thrusting so fast that his balls chafed against her clit, giving her a delicious edge of pain to her pleasure.
"Yeah? You want to be my personal fucktoy? I'll come over and fuck you any time you like. When Luka goes to the bathroom I'll bend you over the couch and fuck you hard and rough. Maybe I'll sneak over and fuck you in your room while he sleeps. Would you like that?"
Laurie screamed, tears streaming down her face as her abused cunt took the onslaught of Alex's incessant cock pounding into it over and over and over again.
"Mmm, maybe I'll get you pregnant. How does that sound? I'll fill you with so much cum every day that you have no choice but to get pregnant and be my fuck toy. I'll fuck you anytime I want, whenever I want, wherever I want. I'll take you in my car and fuck you, I'll fuck you between classes, I'll make sure you're always full of my cock or my cum."
"Fuck yes!" Laurie said, still twerking on his cock as he pounded her.
"Say it," Alex growled.
"I want to be your fucktoy! Please, please, please god. I want you to fuck me wherever. I want you to just fuck me and use me for your twisted pleasure. Fill me with so much cum I can't think about anything except your cock. Rent me out to your friends, I don't care! I just want your deliciously thick cock inside of me just like this, pounding me over and over again!" she screamed, her eyes crossing as she came, squirting on his cock.
"Such a good fucking slut," Alex said. "Just a breeding hole for me."
"Yes, I'm your breeding hole! Please breed me!"
A couple of minutes later the two were on the couch with Alex on the bottom, grabbing Laurie's hips and helping her slam herself down on her cock. She watched the door where her son could walk in at any minute.
"Mmm, fuck," she moaned.
"You like that?" Alex said. Every fifth time that she slammed her hips down, he would meet her thrusts and slam into her once, resulting in her eyes nearly rolling back in her head and a soundless orgasm.
"I love m-master's cock," she said, tongue falling out of her mouth. Laurie had been broken, turned into a fucktoy for her younger son's best friend who fucked her like a bull. That afternoon full of rough fucking would begin the start of an affair with Alex.
He made sure she was always taken care of, even when he was in class. He plugged her ass and her pussy with her thick dildos and controlled their vibrations in class, edging her all the way up to when he was out. He would speed to her house where she would almost always be waiting at the front door, kneeling in her own cum and fluids from the hours of incessant edging.
"P-please f-fuck me!" she would scream, collapsing onto him and begging for his cock. He would spend the next few hours fucking her raw, filling her with cum. When he was spent and couldn't fuck her any more, he would strap her down and turn a fuck machine on, making her take as much as she possibly could just before she passed out.
She was a cock hungry whore, a fucktoy for him to use, and he made sure she took it rough and hard. He was her bull, but she was his fucktoy.